Climate change was the most debated topic in 2019. It was amazing to see how so many people were being made aware of this issue of paramount importance in such a short time span. Especially among the younger generations, protests for climate justice had become a mass phenomenon. #FridaysForFuture put together more than 13,000,000 people from 7,500 cities in all continents. One could really feel that something, finally, was going to happen – politics could not ignore so many people, if not for ethical reasons, at least for the sake of consensus at the next elections. No doubt, these were the first steps towards a greener planet.
Then came the Coronavirus.
Among the many negative aspects that the current situation brought about, there was a positive aspect, perhaps the only one. I was delighted to see the effects that lockdown measures taken by governments worldwide had on the quality of our air and waters. It did look as though the planet had finally rebelled against our poisonous behaviour, our destructive presence. I have gathered some examples.
The image below shows Nitrogen Dioxide density change in China due to Coronavirus.
In Venice, canals run clear and even dolphins appear in the waterways!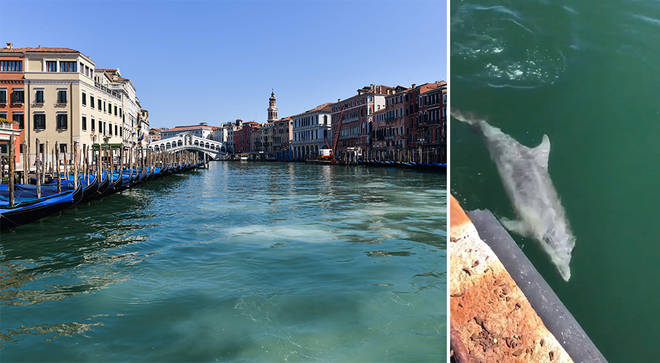 How beautiful! And it took so little to actually free the natural world from the harmful effects of our toxic emissions. We just needed to stay at home for a while to start saving our planet. Of course, it is fundamental to resume our social and economic lives – people need their jobs and their 'normality.' However, we cannot ignore the lesson that our planet is teaching us in such a drastic way. We cannot neglect this aspect of the Covid-19 pandemic for the sake of money. It is time to develop a new model of economic growth that seriously considers the effects that our activities have on our planet. It's now or never.
A study published by the University of Helsinki in April 2009 predicted how many people would die annually in Europe from damages caused by air pollution in 2020. The introduction states: "The first building block of this research is the pioneer work performed by the Clean Air for Europe (CAFE) and WHO. These works provide estimates for emissions of several air pollutants and the related premature deaths in Europe, showing that there is some 350 000 such deaths annually" (Lehmijoki & Rovenskaya 2009). The figure is frightening: 350,000 people may die prematurely because of toxic emissions. Similar estimates are provided by other reliable sources. According to the EU environment agency, Air pollution causes more than 400,000 annual premature deaths in the 27-member European Union and the UK.
So far, the Coronavirus has killed fewer people worldwide (265,356 on May 7th). Do you want to know how many people die prematurely every year around the world? Well, a research carried out by the Max Planck Institute for Chemistry estimates that 8.8 million people die annually because of air pollution. The article, published on March 3rd 2020, states that "around 5.5 million a year are avoidable, and the majority of polluted air comes from the use of fossil fuels." In comparison, tobacco, alcohol, and other diseases are less harmful. According to this research, 7.2m premature deaths are caused by tobacco, 1m by HIV/AIDS, 600,000 by malaria. We live in a world where on average smoking a cigarette is less dangerous than going for a walk in an urban centre.
And what are governments doing in this historic moment? Nothing at all. I haven't heard of any substantial change that is going to be implemented in the light of this. Please correct me if I am wrong. We have a chance to help the world heal, just like the last weeks have shown us, and we are wasting it. As lockdown measures are being eased in some countries, not only are we back on track to pollute the world, but we risk inflicting even more damage. We are invited to wear face masks and plastic gloves to protect ourselves and others. Look at what happens after using such devices:
The masks are made of polypropylene, a type of plastic, and are not going to break down quickly. This is what Gary Stokes, founder of the environmental group Oceans Asia, said to Reuters. The masks were found on Hong Kong's beaches. According to the Polytechnic University of Turin, Italy needs around 1 billion face masks every month. This estimate is applicable to any other European country of comparable size, including the UK, Germany, and France. Face masks cannot be reused or recycled. How are we going to limit the impact of the disposal of such materials? Someone may reply that we can't worry about this as these devices will help us fight the virus and are indispensable at the moment. The reality is that we can't make exceptions. We are given a chance to solve problems linked to pollution, emissions, and plastic waste and we can't just respond with more waste, more emissions, and more pollution. We have given up our freedom in order to stop the spread of the virus, why can't we give anything up to save our planet and our own lives? The real health crisis we face today is not caused by the Coronavirus, but by the environmental damages we ourselves caused.